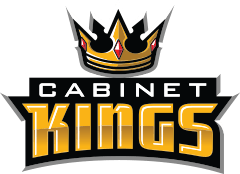 About Us
Cabinet Kings LLC is a family owned business based Fort Myers, FL that began operation in 2011. Since our opening we have taken pride in meeting and exceeding our customer's needs throughout the design process, all the way to job completion.
What makes Cabinet Kings LLC special is our ability and willingness to work with any type of client. Whether it is cabinetry for a client's home, supplying cabinet and design services for contractors or kitchen and bath remodeling companies.
No project is too big or too small. With over 100 styles and colors to choose from, we will work with you hand-in-hand on your project to help make your vision come to fruition.
Kitchens, bathrooms, laundry rooms, offices, garages, entertainment centers and more! Call or email us today for a free consultation and estimate.
"Cabinet Kings LLC works with numerous professional and vetted companies across Southwest Florida. Call or email us if you need a referral to anything related to construction or homes. We can get you set on the right path with peace of mind."